Simple Summer Updos from Roy Teeluck
Hot temps and high humidity make it difficult to look elegant and effortless, particularly in the hair department. Roy Teeluck (of the eponymous Roy Teeluck Salon in New York and Miami) to the rescue with easy updos to get that hair out of your face and off your neck, and tips and tricks for the hautest hot-weather hair ever.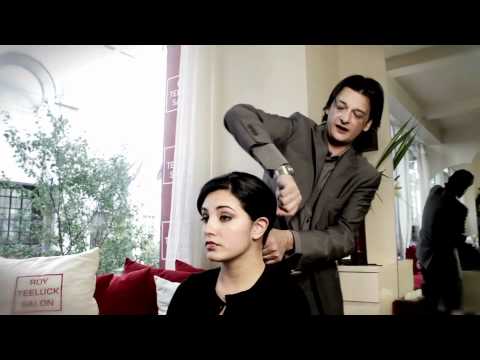 Sheckys: What's an easy way to create an elegant updo this summer?
Roy Teeluck: Summer updos should be unfussy and unstructured. One of my favorite looks right now is a ballerina bun. Gather hair in a ponytail at nape of neck, securing with an elastic, then twist hair strands as you roll it into a bun. Secure with bobby pins. The bun shouldn't be perfect; let a few loose ends stick out for added softness.  
S: What's your go-to updo suggestion for a girl who doesn't have a ton of time?
RT: For shorter hairstyles, take a dime size amount of L'Oreal Professionnel's Or Graphic Golden Modelling Gelee*, smooth in palms, and distribute through hair to add texture and hold. Think of Ginnifer Goodwin's punky short cut.
For longer hairstyles, a ponytail is always classic and chic. To keep it from looking too girly, gather hair at nape of neck in a loose ponytail, secure with elastic, and gather a few strands to wrap around elastic. Secure ends with bobby pins.
S: What are your top three hair product essentials for creating the perfect updo?
RT: L'Oreal Professionnel Infinium Hairspray for hold, L'Oreal Professionnel Smooth Essence Weightless Smoother to smooth the hair cuticle and bobby pins in a range of sizes. Use ones that most closely match your hair color.
S: Any summer hair tips to keep in mind during this heat?!
RT: Minimize use of styling tools such as blow dryers and flat irons. An excellent cut and the right product will allow you to make the most of your hair's natural texture. Don't fight it, work with it!
P.S.: Roy also loves L'Oreal Professionnel's Liss Ultime line; created specifically to tame frizz. The Perfecting Serum is fantastic for addressing rebellious strands and adding shine. Rub a small dab in your palms and run through ends and lightly around hair line.
*to purchase L'Oreal Professionnel products, e-mail sarah@royteeluck.com. Your order for L'Oreal Professionnel products will be personally placed for you.

Reported by Lynden Halpern
GIRL TALK TIME: What's your go-to style for your hair in the summer? Have you ever used any of the products Roy mentioned? If you're in New York, head to Roy Teeluck Salon, located at 5 East 57th Street, 212.888.2221.
Give Us Your Opinion & Earn OMG Points!